It's a new year and everyone has all these new goals and resolutions for 2019. Perhaps "stop renting" is on your list of things to accomplish this year. Well then, you're in luck! We can help you with that New Years Resolution hands down! We can show you the simple steps you can take to finally stop renting. In this blog, we will discuss each step with you and how we can help you achieve your goal of becoming a homeowner. From rentals to your own crib. Just imagine, no more rent inspections, no more landlords, no more rental maintenance issues, no more housemates, na-da. How many times have you heard your landlord say, "you can drill as many nails in the wall as you like when you have your own home but not here missy". Well, let's help you get your own home and we will buy you all the nails you want to hang all the photos you want in your OWN HOME! Isn't it time to stop renting and finally start owning your own home? Follow us on this journey and we will help you get there.
STEP 1
Okay, so now you've called us and found out that you do qualify! CONGRATULATIONS! See, that wasn't so bad was it. Now, the next step is up to you. Knowing that you do qualify to build your own home, do you seriously want to still keep renting? Go on take that leap! In this next step, we discuss all your options from designs, block of land and finances. This is where you decide on the location you would like to build as well as discover your borrowing capacity. This will then determine the designs you can choose from.
If you've contacted us and discovered that you don't yet qualify, don't be discouraged! We will make a plan to ensure we get you qualified. We have helped so many people in the past who at the time did not qualify but followed every step of the plan we set for them and now they are in their own home. Sometimes all you need is someone else to believe in you and we believe in you! We will walk you through the journey of home ownership whether it happens right now or in the future.
STEP 2
This is the most important step and often times it might be the scariest step. Do you qualify?
Too often people disregard this first step because they are scared that asking the question means you'll be locked it. Let us help clear the air. We will not lock you in. If you just want to know if you qualify or not, we will do just that, tell you if you qualify or not. If after finding out that you do qualify to build your own home, whether you are a first home owner or a second home owner, and you want more information, then we will proceed to give you more information in a form of our FREE info session with a consultant. So, you still scared to find out if you qualify for a home of your own? It is really simple and we are here to help you and not push you.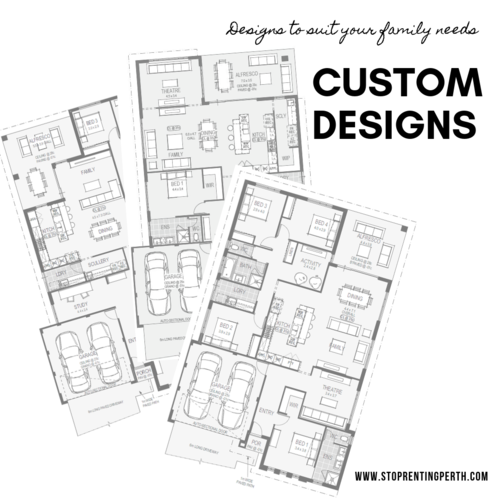 STEP 3
Design! Design! Design! This has got to be the best part of building your own home. Once we've been able to determine your borrowing capacity and block size, we're able to help you with the design that will best fit your block. Additionally, you can amend and re-arrange the design to suit your family needs! We have over 50 different designs to choose from and our design team is dedicated to making custom changes to suit your family needs. Maybe you have kids and would prefer a larger games room or activity area, maybe you don't have kids and would prefer to have a bigger theatre or alfresco for entertaining. Whatever your needs are, we will do our best to build your dream home.This is just one way that we guarantee that together, we will come up with a perfect plan for you.
STEP 4
Finance Approval. This is the most important step because once finance has been approved, you are on the right track and just that much closer to owning your own home. We will provide trustworthy information and financing options as you step toward your goal of becoming a home owner. If you are a first home owner, this is such a good time to build with the availability of the first home owners grant. Take advantage of this now while it lasts. If you are not a first home owner, we can still help you.
STEP 5
Dreams do come true! With the finance approval comes the next step of building your own home. Watch your dreams become a reality, one brick at a time. It is the best feeling in the world when you receive your keys and move in. You'll be pinching yourself! Just like that you can finally say you have escaped the rent trap and now own your own home. It is also at this step we at Stop Renting Perth find the most satisfaction because we know we've been able to help you out of renting into your own home. Just like that, you can tick "stop renting" off your new years resolution because now it's a reality. So, go on… find out if you can stop renting for good!